︎Live (acquired by Etsy)
Dawanda
Role
Product Designer

Category
Ecommerce
Platform
iOS, Android native
Timeframe
2015-2017
About
DaWanda
[acquired by
Etsy
] was a marketplace for handmade goods. Designers, crafters and DIY enthusiast were able to open a shop and sell what they've created. Customers could buy handmade and customisable products. Personalized gifts were one of the main sold products.
My role
I was hired for the newly formed in-house Mobile team, which mission was to build a native iOS and Android App for their ecommerce platform.
My mission and main focus was to
design the iOS and Android native apps from scratch,
release it together with my team and further improve it.
Team
Dev, QA, PM, UX (Cross-functional)
Focus areas
Analysing

Wireframing

Prototyping

Testing

High-fidelity designs

Dev handover

Tools / Software
Pen & Paper

Principle

Sketch

Zeplin

Jira

Slack
---
Concepts
One of the improvements we rolled out during the last quarter I've spent with Dawanda was a revamped Homescreen and Onboarding experience to improve conversion rates through increased customer engagement and higher retention rates.
The result of our research was clear: We needed to move away from generic content to personlised targeting.
Besides we also introduced the native in-app rating feature that was provided with the latest iOS version.
The impact exceeded our expectations completely.
Looking at what performed well in terms of engagement and conversion rate we reworked the information architecture. One look at the user journey and our personas made clear, that searching and browsing happens in the same state of mind. And although our DIY section was filled constantly with interesting content, we figured out that the engagement was too low for a dedicated place in the tabbar. Instead we chose to offer the customer a perpetual way to access Search/Browse from the tabbar.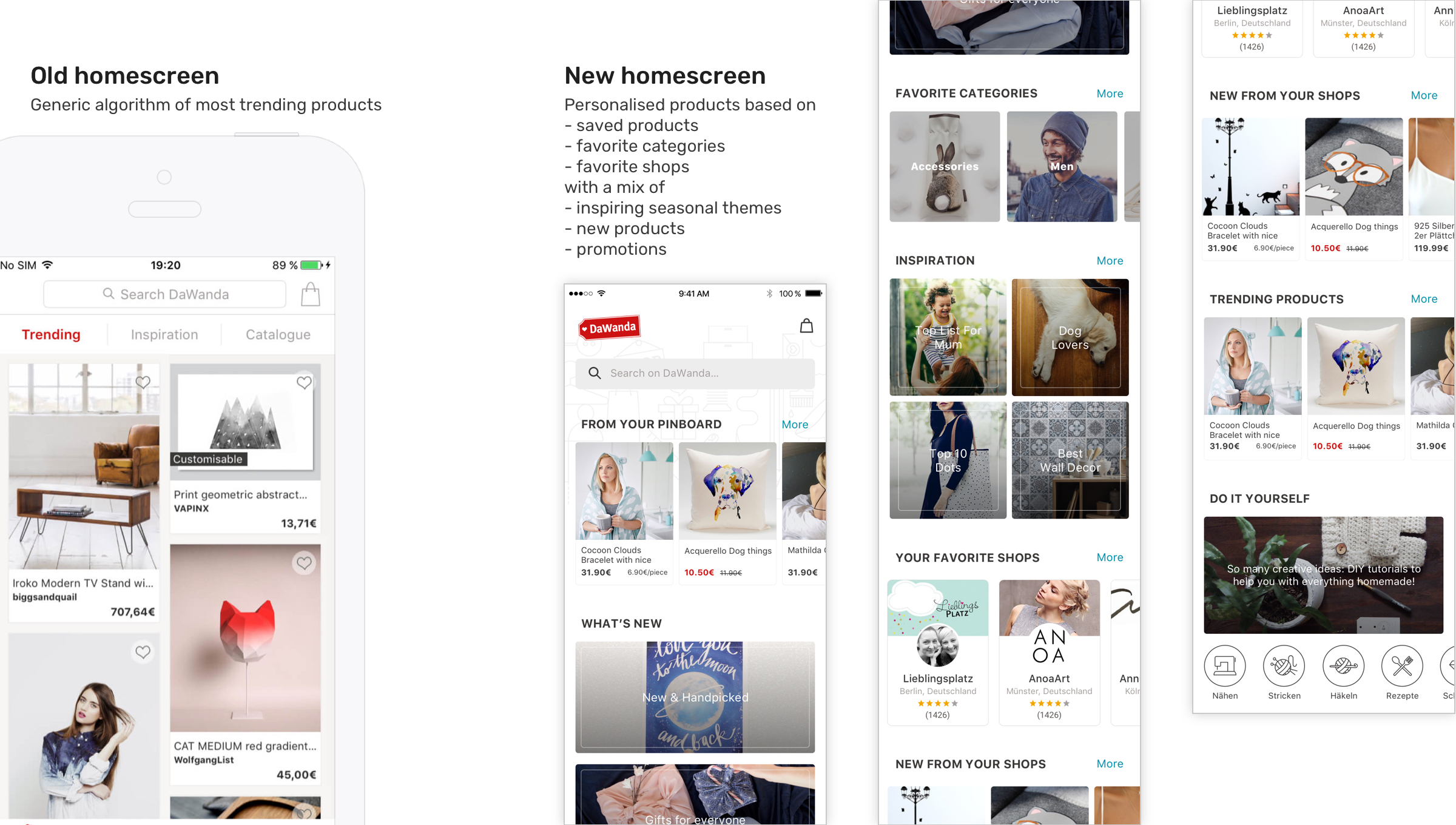 Details
We introduced clearer tabbar icons, an improved onboarding to communicate our USPs and a welcoming personalised homescreen.


Results
The Dawanda brand is well known and established in Germany. Despite their much bigger competitor Etsy, Germans prefer local brands and are loyal - even when they're complaining.
We had a lot of happy app users but only the bad reviews made it to the AppStore resulting in 2.6 stars with a couple hundred reviews. Therefore we also aimed to improve our ratings by giving our happy customers an easy way to let us know about their good experience.
From 2.6 stars to 4.8 stars with over 16k ratings!
Positive reviews started to flow in and customers where happy about the new changes. Easy navigation, a clear structure and the nice design made up most of the reviews.
Below you can see some main interactions. Besides the necessities of an ecommerce app like a Product detail page, adding to cart, saving products and the checkout flow we also provided the user with specific actions to our platform. Communication with sellers, saving favorite shops and tracking order status were some of them.
Browsing from your
personlised homescreen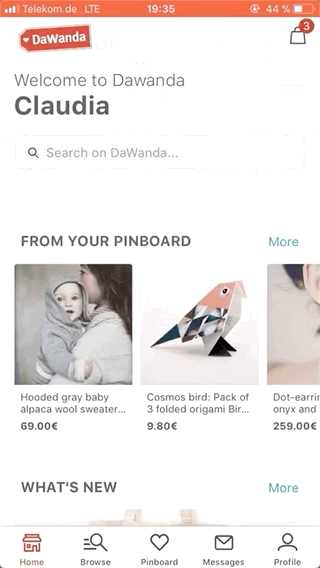 PDP
&
Adding to basket
Browsing and adding product
to
your pinboard
Say Hello!
You need support with a project of yours or just want to have a chat? Don't hesitate to message me! Let's grab a coffee together, let's talk business...or about technical innovations, startups, design and human psychology.


Hit me up!